Are you satisfied with your current job?
Are you seeking a more challenging role? Do you desire to work in a different industry or field?
Well, there might be various reasons for wanting to change careers. The decision about changing careers is different for each individual. It depends on an individual's choice, interests, and life circumstances.
At least once, the thought of changing careers has crossed our minds. Are you one of them looking for a Career change but does not know how to start or create your Career Change Resume?
If yes, you have found just what you needed.
Things to consider while writing a resume:
Your resume reflects how you are as a person. You don't want to miss any important factor in making a resume for career change, right? To stand out, we need to follow the correct format. So, you don't want to miss the opportunity for landing an interview. While making an error-free professional career changing resume, there are several factors that you'll need to mention. You need to keep the following things in consideration:
1. Which resume format is the best for professional needs?
There are three common formats in the resume: Chronological formats, Skilled/functional formats, and combination formats. Each format has its advantages and disadvantages. So it's up to you to determine which one best fits your needs.
a. Chronological Resume
A Chronological resume is the most common type of format because of its clean and straightforward nature. If you don't have any gap in your work experiences and you are looking for a job in a related field, this format is the best fit for you. Also, work best if you have credible experiences.
Companies don't want someone who is hopping from one job to another. For them, the employer's loyalty is very important. So, if you are frequently changing from one job to another, then this format may not be the most appropriate for your choice. For you, a combination resume would be a better option. And for the entry level candidate who has done only volunteer work and internship and you have enough skills to convince the company, a functional resume might be suitable for you.
Some Templates of Chronological resumes:
b. Functional Resume
Functional resume highlights your skills more than your work experiences. Unlike chronological resumes, this format doesn't focus on chronology or dates. Those who are looking for creative jobs where portfolio matters most prefer functional resumes. Candidates like students who don't want to seem overqualified may use this format. But if you want to impress HR or the company, Writing a Strong Cover Lettermay help you pitch for the interview.
Some Templates of Functional Resumes: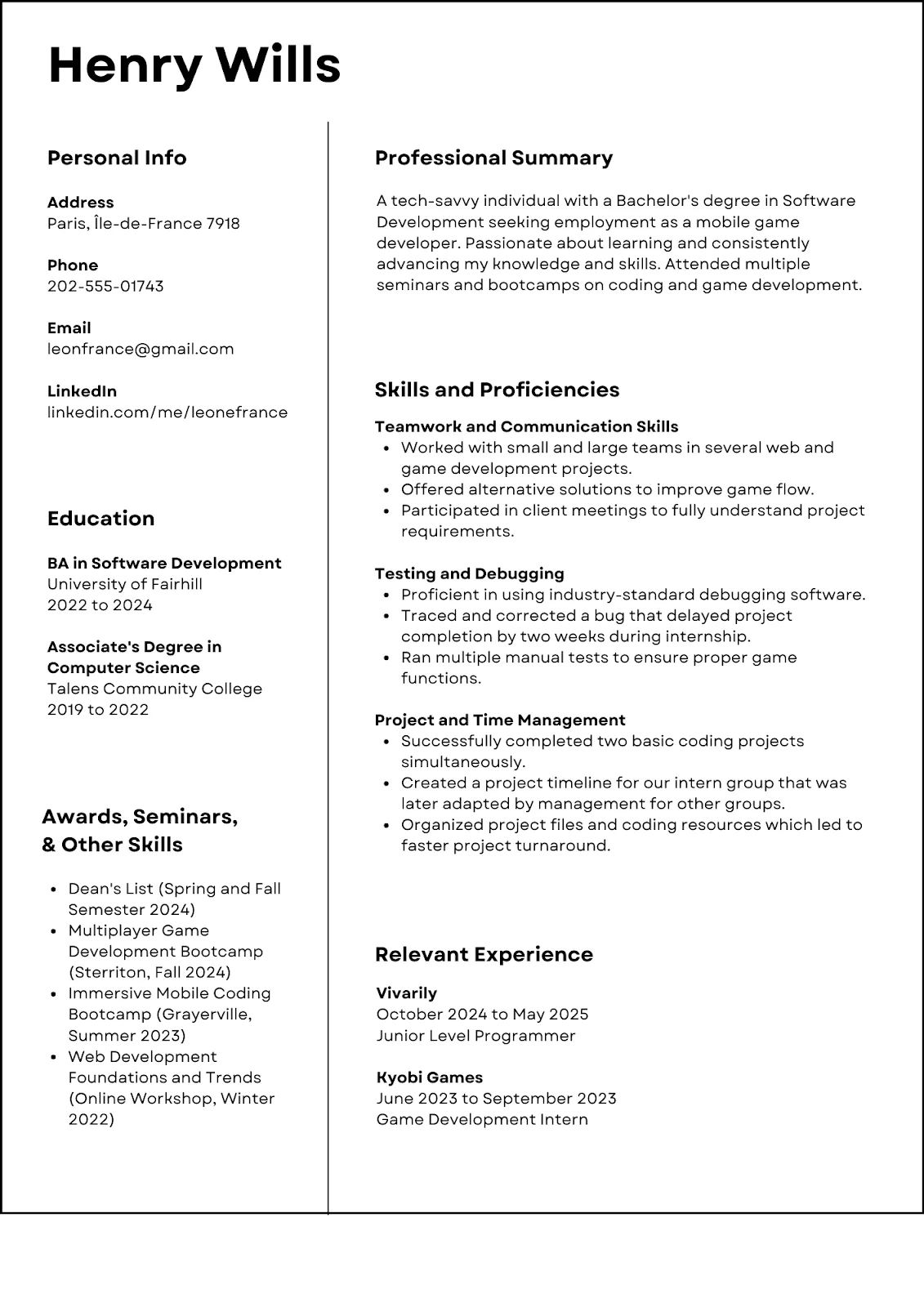 c. Combination Resume?
A Combination resume, as its name, reflects the combination of both chronological and functional resumes. This resume is advantageous to use for showing your relevant skills and qualifications while downplaying your work history. So, if you have a long employment gap and also frequently change your career then this format might suit you more. What this resume does is, it prioritises your skills over your paid work experiences.
Also, for seasoned professionals who are targeting a specific position, this format may come as a great help to them.
Some Templates of Combination Resumes: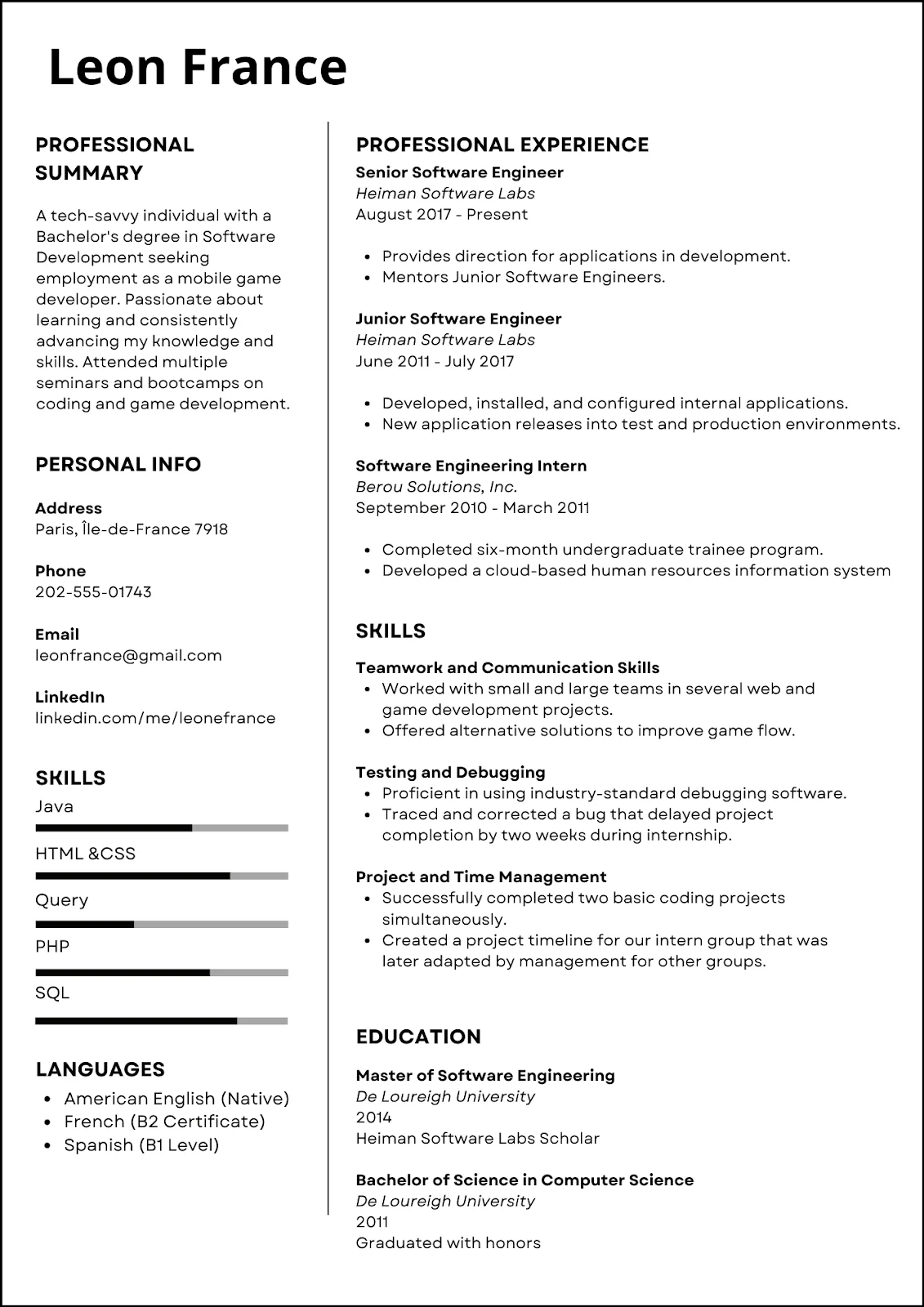 2. How to Write a Header in a Resume?
You start your resume with a header section, so it should be eye-catching and professional. This section serves as an introduction to your resume. That is why your personal information should be up to date and accurate.
The header section customarily includes the following information:
a. Must have Information in a Resume:
Name:
Your name is your identity. The first thing the company will look for is your name. For that reason, your name should be in larger fonts than the rest of your text.
Contact number:
You should give them an accurate phone number and also don't forget to add your country's code if you are applying for a job outside the country.
Email addresses:
You should include your professional email address like "[first name][last name]@gmail.com" which looks professional but don't include your non-professional email addresses like "xYsuperman123@gmail.com" which won't look professional on your resume.
Address:
You always need to put your current location because the company requires information regarding your current location to determine whether you are within the desired area or if they need to provide support for your move.
b. Optional Information in a Resume:
This information is not mandatory for a resume. It depends on you whether to mention it or not.These are your professional social media links such as linkedIn, github etc. like "www.linkedin.com/me/[first name]".
Resume Summary and Objective:
Your recruiter takes only a few seconds to go through your resume. Which is why your resume summary and objective is important. Both resume summary and objective is a short statement which looks at an individual's skills, work history and accomplishments explaining why they are the best candidate for the job. But which one is appropriate to include in your resume?
Resume summary showcases your accomplishments that are relevant for the job that you are seeking for. If your previous work is related and you have transferable skills then summary is a good option.
Resume Summary for Career Change Examples:
Example 1:
Experienced software engineer with over 5 years work experience in developing and maintaining high quality software applications. Have high skills in multiple programming languages such as Python, Java, and C++. Proficient at communication, problem-solving and working in deadline driven environments.
Example 2:
Marketing Professional with experience of creating and executing successful campaigns. Track record of increasing brand visibility and increasing sales growth through marketing strategies. Skillful in market research, project management and data analysis.
While on the other hand, a resume objective, it emphasises how your skills are applied for the new career. So for those who want to work in a different field, it may be better for you to choose a resume objective.
Resume Objective for Career Changing Examples:
Example 1:
Securing a sales position where I can use my problem solving and communication skills and track record of exceeding sales targets to develop relationships with customers and increase revenue growth.
Example 2:
Seeking a position as a software engineer where I can pay my contribution in programming skills, and utilise my problem-solving abilities and dedication for technology development of high-quality software applications.
3. What Things should be included in Resume Sections?
This part of the resume may vary from your work experiences level, education and your skills. It's crucial to customise your resume to fit the job requirement you apply for. In this section following things are included:
a. Work experience in a resume:
While changing careers it is necessary to highlight your previous work experience. You have to include your work that you did before with the company name and the time period you worked for with accomplishment you have achieved when working there. Include work experience which is relevant to your desired next career/job.
Example:
Senior Software Engineer
Silicon valley Software Labs
August 2016 - Present
Provided a new direction to develop applications.
Researched and developed new ways to improve the development process.
Conducted a test for software bugs
b. Education section in the resume
Education section is very straightforward to create. You simply need to list your academic background, including the name of the school, degree, and major and any relevant coursework.
Example:
Harvard University
BS Computer Engineering | Graduated 2018
GPA:3.8
Specialised in software engineering and development
Participated in application of the month programmed
Member of Harvard Programming Society
c. How to list your skills in the resume?
The Skills section on your resume is important for documenting your necessary abilities to perform the job requirements. Most job advertisements contain a list of those exact skills for a suitable candidate. So, you need to determine which skills are relevant for that particular job listing and mention those exact skills in your resume. For example, if the job listing requires experience in software development, make sure to mention software development skills in the skills section of your resume.
Example 1: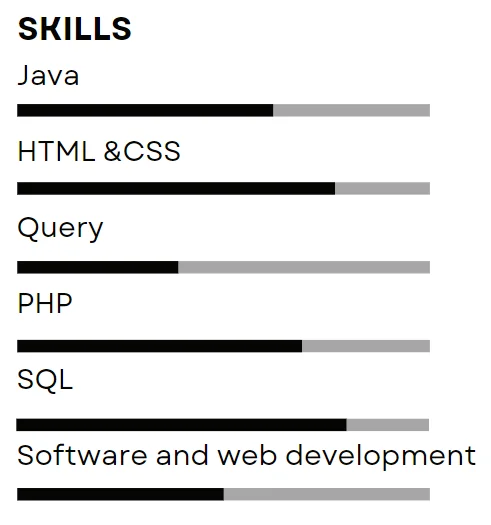 Examples 2:
Teamwork and Communication Skills
Worked with small and large teams in several web and game development projects.
Offering alternative solutions to improve game flow.
Attended in client meetings to fully understand more about project needs and requirements.
d. How to list career certificates in the resume:
In this section you can include the recognition you received for your achievements, such as awards, certificates, and professional licences. If you want to change a career, certificates are the perfect way to show your dedication and commitment to your chosen career field. By obtaining certificates, you are showing the recruiter that you are willing to invest time and effort into your craft, and you have already taken initial interest towards your goal job. However, when listing the certificates on your resume, be aware that they are relevant to the field you are pursuing. In this way, you will help the recruiter see your level of expertise and knowledge in the industry.
Example:
Inbound Sales and Marketing Certificate
Murrayfield School of Marketing
2012
Online program taught how to identify potential customers for sales
build an inbound marketing strategy.
e. How to list personal projects in the resume?
You can list personal projects to show that you are a suitable candidate for that job. These could be a project done in the college, starting a dancing club in the college, or organising a team for the science project. It is necessary to ensure that the projects listed are suited for the relevant career which may compensate for any lack of experience in that field.
Example:
PawsHomes
2021-Present
E-commerce website for buying, adopting and grooming your pet animals.
Build the frontend with HTML,CSS and Javascript and backend with PHP in Laravel framework
Gained my knowledge in building websites and programming skills.
4. Career changing Cover Letter:
Cover letter is an important step to focus on before you submit your job application. A career change cover letter is an introduction letter which highlights your skills, relevant experiences and dedication for seeking a new career path. Your cover letter should explain the reasons behind your career change and how your skills are relevant for the desired job. Therefore it is necessary to have professional Cover Letter Writers to make a strong impression, provide reasons and highlight any notable achievements or statistics that show your abilities.
How to show Cover Letter?
Example 1:
Dear [Hiring Manager]
I am writing this letter to express my interest in the [Position Name] role at [Company Name]. I have [Number of Years] of experience in [Previous Industry/Career], and I am willing to bring my skills and passion to a new challenge in [New Industry/Career].
I have developed a strong ability to [Skill or Achievement] from my previous role as [Previous Position]. That experience has furnished me with beneficial skills such as [Skill], [Skill], and [Skill], which I am confident that I will transfer to the [New Industry/Career]. I am a very hardworking and enthusiastic person and I am drawn to the opportunities for growth and innovation at [New Company Name], And I am hoping to contribute to the company's success.
I have a track record of [Achievement or Accomplishment] and I am well-versed in that [skill]. Moreover, I am a fast learner and am always very keen to take on new challenges. I am confident that my strong work ethic, attentiveness, and ability to work on a team and add make a valuable asset to the team and[Company Name].
Thank you for considering my application. I am looking forward to the opportunity to discuss my qualifications further in an interview.
Sincerely,
[Your Name]
Example 2:
Dear [Hiring Manager],
With my background in [Previous Industry/Career], I am looking to transition into [Position Name/Career] role at [Company Name]. I believe that my experience and skills makes me an excellent fit for the position [Position Name] at your [Company Name]. And I am eager to bring my skills and experience to a new challenge in [New Industry/Career].
I have sharpened my skills in [Skills or Accomplishment] from my previous role as[Previous Position]. I would bring both passion and knowledge in your [Company Name]. And with a track record of [Achievement or Accomplishment], I am confident that I can bring the level of success to the [Position Name] role at [Company Name].
My transferable skills, such as [Skills],[Skills] and [Skills], will help me make a valuable asset to the team.And I am especially drawn to the opportunities for professional growth and development at [Company Name].
Thank you for your time and consideration. I would love to meet you and share my previous experiences and discuss my qualifications further in an interview.
Sincerely,
[Your Name]
Templates of Career Changing Resume:
Template 1:
Template 2:
Final Note to Remember
Changing careers can be challenging, but with a well-crafted resume that focuses on your transferable skills and experience, you can make successful change. Your resume should include contact information, objective or summary, skills, work experience, and relevant certificates and personal projects. It is important to highlight what is relevant to your new position. To accompany your resume, attach a customised cover letter that showcases your unique skills. It also explains your reasoning for switching careers. Yes, by following these steps and considering these key points, you can create a suitable and effective resume for your career transition. If you are unsure about who to write your resume, consult professionals for proper Resume Making Services to maximise opportunities and acceptance chances for yourself.
---